The CSA Foundation for Education is a California, nonprofit, public-benefit corporation dedicated to the future of anesthesiology through the support of science education in public high schools, the support of resident physician training, and the promotion of patient safety through research, advances in anesthesia care, and patient-centered, public information. The educational purpose is threefold:
To support high school education in the subjects of science, technology, engineering, and mathematics (STEM), specifically working with public schools in communities served by California teaching hospitals with anesthesiology residency programs;
To fund research awards to support research projects concerning quality of care, patient safety, and the history of anesthesiology, submitted by residents and fellows in California anesthesiology training programs, or by undergraduate or graduate students in science or the history of medicine;
Supporting public education with state-of-the-art information about:

The risks, benefits, and safety of anesthesia services;
How patients can optimize their health to reduce perioperative risk;
The appropriate types of anesthesia available for different procedures;
The role of physician anesthesiologists in continuous quality improvement efforts to achieve the safest possible anesthesia and surgery outcomes for patients.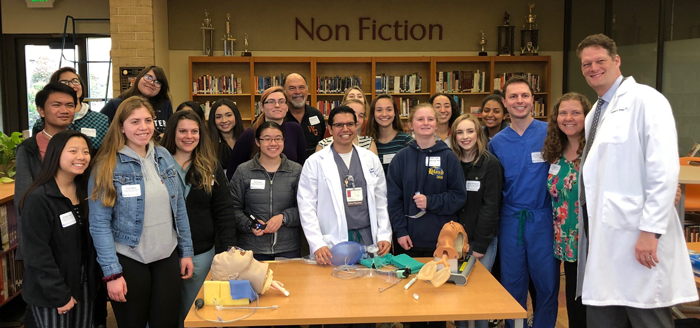 Benefit to Society
The CSA Foundation will provide and fund opportunities for CSA residents, fellows, and physician anesthesiologists to engage in benevolent, education-related activities that benefit local communities, promote patient safety, and advance public knowledge about the important field of anesthesiology.
Support the CSA Foundation for Education
CSA Members support the Foundation for Education with a $25 contribution from their dues each year. This contribution supports the many efforts of the foundation.
Additionally, CSA Members and partners are encouraged to support the CSA Foundation with tax-deductible contributions in one of the following ways:
| | |
| --- | --- |
| Private and Academic Practice Groups | $2500/year or more |
| Corporate Contributions | $2500/year or more |
| Individual Contributions | $250/year |
| Residents/Fellows | $25/year |

To make a contribution to the CSA Foundation for Education, click here.
Primary Initiatives
A. Project Lead the Way Partnerships
The CSA Foundation supports the establishment and sustainability of partnerships between departments of anesthesiology at California's eleven academic medical centers and local public high schools within their immediate service areas. These partnerships will support the implementation of the biomedical sciences curriculum developed by Project Lead the Way (PLTW), a national, nonprofit organization. Initial financial support from the Foundation will be $5,000/year to each school site to fund teacher training and classroom equipment. Foundation board members facilitate anesthesia resident volunteer engagement with students enrolled in the biomedical program to spark interest in healthcare careers and provide information about the field of anesthesiology.
View a video of the CSA/Stanford/PLTW Launch Event:
B. Research and Quality Awards
The CSA Foundation will fund awards of $5,000 to $10,000 to California residents and/or fellows to conduct research projects designed to improve the quality of care and patient safety, emphasizing the principles, evolution, and remarkable history of anesthesiology. Initially, the CSA Foundation hopes to present two or three awards annually, with expansion as funding permits. Working with residency program directors, CSA Foundation board members will identify research topics, establish award criteria, review submissions, and make award decisions. Promising research will be highlighted in CSA's practice management programs, continuing medical education offerings, online resources, and patient-oriented public communications.
C. History of Anesthesia Essay Contest
The CSA Foundation will support an essay contest conducted by the CSA Committee on the History of Anesthesia for Residents and Fellows each fall with one winner selected to present at CSA's subsequent Annual Meeting in the spring. The awardee will be presented with a prize of $1,000 and receive up to $500 in registration and travel costs to attend the annual meeting. The essays are required to be 1,000 words or less and should address one of the following topics: history of the submitter's department of anesthesiology; a notable achievement of a California anesthesiologist; a historic event or theme that involved or affected anesthesiologists in California; or an amplification of a theme from one of the historical documents by Arthur E. Guedel, MD, a California-based pioneer of American anesthesiology.
For more information, contact David Butler, Executive Director at dbutler@csahq.org or 916-290-5830.
To make a contribution, click here or mail a check to:
CSA Foundation
1 Capitol Mall Suite 800
Sacramento, CA 95814